Committee On Political Education
IBEW 21 members have strength in numbers. We must use our strength to win good pay, retirement security, safe work environments, broad access to quality education for our children and much more. By mobilizing through our get-out-the-vote effort, IBEW 21 members can elect candidates who support and will enact a working families' agenda so we all can move forward together.
Union families must register to vote, volunteer to help friends of Labor and then get out to vote on Election Day. We do make a difference. After all of the campaign rhetoric, we must elect the candidates who best serve the interests of working people. We must not let wedge issues divide us.
IBEW Local 21 supports those candidates who stand with working families.
At the ballot box we will punish the enemies of working families.
---
Illinois Worker's Rights Amendment
IBEW members across Illinois have the opportunity to change our Constitution by voting in favor of the Illinois Worker's Rights Amendment. The Workers' Rights Amendment will be the first question on the November ballot. A "yes" vote means you are voting to enshrine workers' rights into our Illinois Constitution so we can become the state with the most robust protections for workers in the country.
The Workers' Rights Amendment helps families by guaranteeing workers' rights to organize and join together to collectively bargain for pay raises and safe working conditions. It helps create good-paying jobs for all workers and also protects all Illinoisans, on the job and off. The Amendment ensures workers can speak out about dangerous situations that put all Illinoisans at risk without fear of retaliation from their employer.
As we saw with previous state, federal and local elections, all IBEW members are affected by decisions made at all levels of government through laws, regulations, judicial decisions and appointments. By voting yes in favor of the Worker's Rights Amendment, we can take control of our futures and prevent out of touch politicians from ripping our rights away from us.

Learn More About
Illinois Worker's Rights Amendment
Here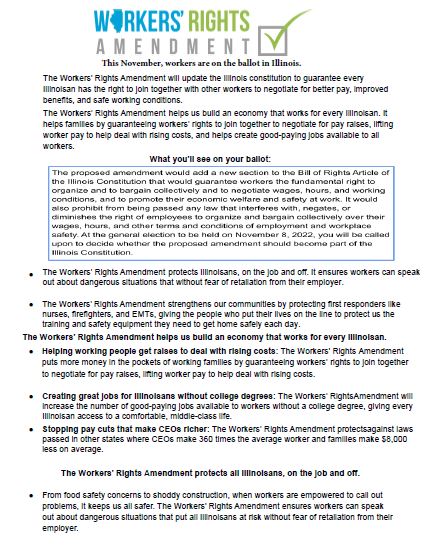 ---
November 2022 Election Endorsements
Our elections are about more than just voting for our next President or Governors. There are many state-wide, county, local and judicial races that affect us as Union members.
The documents below are the list of Labor's endorsed candidates from both sides of the aisle. These candidates believe in a strong middle-class and they previously voted to help you with important issues that affect you at work and as union members.
The candidates were vetted and met the requirements necessary to obtain an endorsement from the unions including the IBEW who are affiliated with the Illinois and Indiana AFL- CIO as well as the Chicago Federation of Labor.
The list also includes some candidates in local elections, judges and ballot referendums. Please refer to the list when voting. You can print it and take it to the polls with you on Election Day.
Illinois Endorsements
Includes Judges

Chicago Fed
Chicago/Cook County

Indiana
Endorsements
---
Illinois Early Voting & Vote by Mail
Voting by mail is an option for Illinois voters to cast their ballot prior to Election Day. Voters can request a vote by mail ballot through the mail or in person. More information on early voting by mail and in person as well as early voting location can be found here.
Illinois Online Voter Registration
In Illinois, you can register to vote online. Information about online voter registration can be found here.
Illinois Voter Registration Applications
You can print out a voter registration application by clicking here. Mail or deliver the application to your County Clerk or Illinois Board of Election Commissioners no later than 28 days before the next election.
---
Indiana Early Voting & Voter Registration
In Indiana, voters have access to three types of absentee voting: in-person, by mail, or traveling aboard. Military and overseas voters can also vote absentee, but state and federal law set forth different procedures.
Information on voting in person and by mail in Indiana can be found here.
Indiana Online Voter Registration
Indiana residents with a valid Indiana driver's license or Indiana state-issued identification card will be able to submit a new voter registration application or update an existing voter registration record online .
Information about voter registration can be found here.
---
Show Your Support & Volunteer!
Get your yard signs, bumper stickers, and pins by contacting IBEW 21 Cope Director Dennis McCafferty or your Chief Steward or Business Representative. If you would like to help out in a campaign or on Election Day please contact Dennis today.
---
KNOW YOUR VOTER RIGHTS
The right to vote is a cornerstone of our country's democracy. Ordinary men and women fought—and even died—to gain voting rights and to protect people's right to vote without intimidation or obstruction. Yet states across the country continue to pass restrictive voter ID and voter suppression laws. These attempts to reduce access to the polls and make citizens meet unnecessary requirements for voting should be seen as nothing less than an attack on our fundamental freedoms.
---
David vs. Goliath
Compared with the big-dollar super PACs and corporate front groups, working people are the Davids standing up to Goliath in today's politics. But our strength is in our numbers, our values and plain, hard work. When we come together, we are formidable.
This election year, what's at stake are basic values. Will we bow to the top 1%? Or will we honor the simple idea that made America great and will make America great again—respect for hard work and the contributions of every person?
---
If you would like more information or if you have any questions, please contact:
IBEW Local Union 21 COPE Director
Phone: 630-960-4466 ext. 353
Page Last Updated: Oct 20, 2022 (13:23:19)