IBEW 21 Days of Giving Toy & Coat Drive Kicks Off Today!
As we enter the holiday season, it is time for us to once again brighten the holidays for children and others who live in the areas where we live and work. The IBEW 21 Toy Coat Blanket and Toiletries Drive kicks off today and will run through December 13th!
The children whose holidays we hope to brighten are assisted by My Joyful Heart, and we will help fight homelessness by supporting Never99 an organization founded by IBEW Local 21 OEMC Member Minka Giles.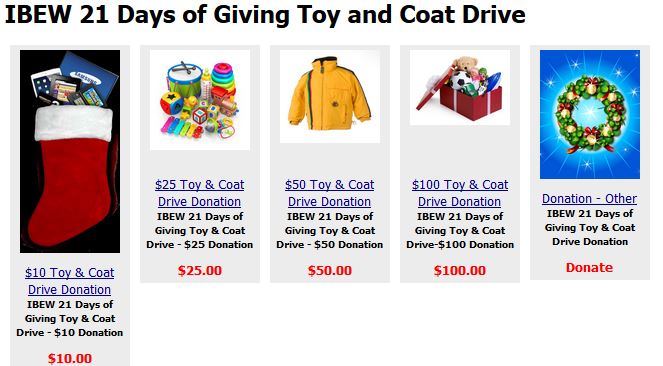 We are asking all IBEW 21 members to donate, toys, coats, toiletries and gently used blankets and a minimum of $1 per member per work location.

We hope all IBEW 21 members, retirees and our friends can make the holidays brighter for these kids.
It is our goal to provide a coat and toy for each child. You can make your donations online by clicking here.
For more information and to volunteer, call or email IBEW 21 Recording Secretary Bob Przybylinski 708-404-0417.
---
Please print out a bulletin board posting
for your work location.
Click the Image to Print