Warm the Holidays for a Child in Need
December 12, 2019
Time is running out and donations have been very light this year please consider helping the kids in the areas where we live and work. The IBEW 21 Days of Giving Toy & Coat Drive ends this weekend.
We would like to provide a coat and toy for each of the children assisted by My Joyful Heart, BCMW Community Services, Bethany Home and Marillac St. Vincent Family Services. If you able, please consider making a donation so we can brighten their holidays.
If you are collecting donations in your work locations please talk to your Chief Stewards and Business Representatives and let them know what you have collected so we can make arrangements to get your donations to the children.
As you head out to do your Holiday shopping please consider picking up a toy or coat for a child whose holiday you can brighten. If you want to avoid the crowds donate online now by clicking here!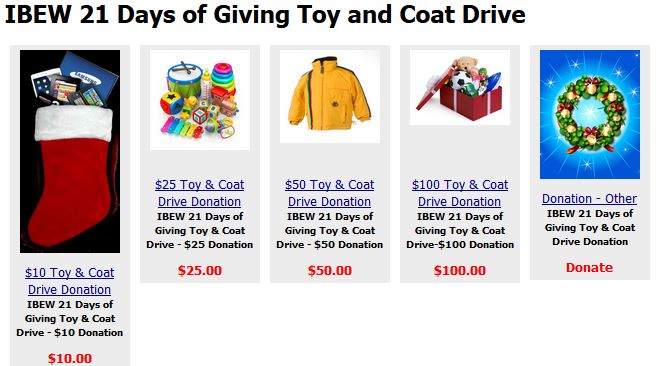 Together we are making a difference in communities where we live and work.