IBEW 21 Back to School Supply Drive Has Started!
July 24, 2019
As our children prepare to start another school year, IBEW Local Union 21 is holding our annual Back to School Supply Drive. We are collecting supplies and donations for IBEW 21 members in need and children assisted by Mercy Home, My Joyful Heart, and Bethany Home. Every year the demand increases; collectively these organizations are in need of school supplies for over 1,200 students.
You can donate online now by clicking here.



IBEW Local Union 21 believes in making a difference in the communities where we live and work. We are asking you join us in our efforts by making a donation to our Back to School Supply Drive.
Ideally we would like every student to begin the year with the supplies needed to have a successful school year. Building strong communities starts by making sure the children living in those communities have the education needed to be successful in life.
We are asking every member to donate supplies and at minimum one dollar. If every member donates we would be able to reach our goal of $6,000 to purchase school supplies for these organizations.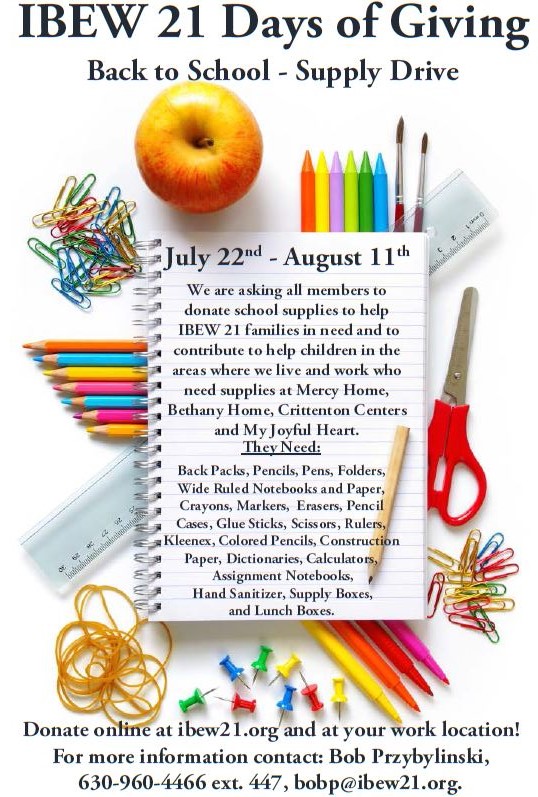 Please set up a collection area in your work location and print out the Bulletin Board posting that can be found here. Help your stewards by talking to your coworkers and collecting supplies and cash and then arrange to get the donations to your Chief Stewards.
If you have any questions please contact IBEW Local Union 21 Recording Secretary Bob Przybylinski, bobp@ibew21.org, 630-960-4466 ext. 447.