Congratulations City of Chicago OEMC Members
November 17, 2020
Our IBEW Local 21 members working at the City of Chicago Office of Emergency Management 911 Center are once again being recognized for their outstanding service to the communities where our members live and work.
The Illinois Chapter of the Association of Public-Safety Communications Officials (APCO) has awarded their Trainer of the Year Award to our Sister Police Communications Officer II Susan Dennewitz.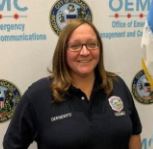 We congratulate our Sister on her tremendous achievement. Susan's dedication and professionalism ensures that those who are seeking help in their times of greatest need are being served by our members who have received training from one the best of the best in Illinois.
We also recognize the efforts of all of our members who contributed to the APCO Awarding Martin Doyle their Director of the Year Award. It is their collective efforts that help keep Chicago safe. Our members achieved this success while working through a pandemic and during some of the most chaotic times in the City's history. Read more about our member's heroic service here.
During these difficult times IBEW 21 members working in public service for the City of Chicago at the OEMC and O'Hare and Midway Communication Centers, the Lake County 911 Center, Vermillion County and the Garden View Nursing home keep answering the call. They go to work every day without seeking recognition but they are truly our Local 21 heroes.