IBEW 21 & 1220 Toy & Coat Drive Kicks Off Today!
IBEW 21 Days of Giving Toy & Coat Drive Kicks Off Today!
As we enter the holiday season it is time for us to once again brighten the holidays for children who are assisted by charities in the areas where we live and work. The IBEW 21 & 1220 Toy and Coat Drive kicks off today and will run through December 13th!
The children whose holidays we hope to brighten are assisted by My Joyful Heart, Bethany Home, BCMW Community Services, and we are happy this year to welcome Marillac St. Vincent Family Services, in Chicago. There are over 1100 children served by these organizations.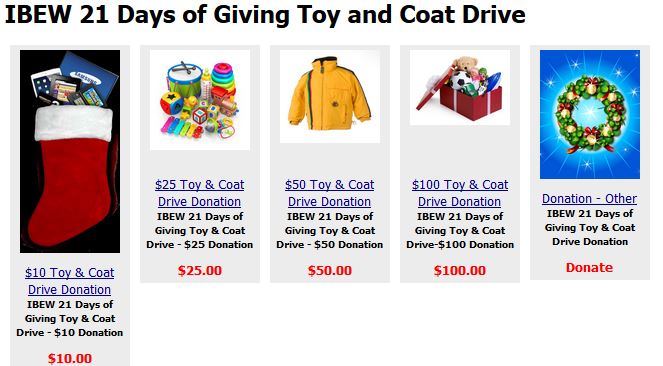 We are proud to partner with our Brothers and Sisters from IBEW Local 1220 in our Toy and Coat Drive. We are asking all IBEW 21 & 1220 members to donate toys, coats and a minimum of $1 per member per work location.

We hope all IBEW 21 & 1220 members, retirees and our friends can make the holidays brighter for these kids.
It is our goal to provide a coat and toy for each child. You can make your donations online by clicking here.
In order to get your gifts to the charities in time for the holidays we ask that they be delivered to the IBEW 21 Union hall no later than December 18th.
For more information and to volunteer, call or email IBEW 21 Recording Secretary Bob Przybylinski 630-960-4466 ext. 447 or IBEW 1220 Business Representative Brett Lyons 773-714-1220.
---
Please print out a bulletin board posting for your work location.
Click the Image to Print