Dec 13, 2013 - Can you Volunteer Next Week?
December 13, 2013
The IBEW 21 Days of Giving food drive will end next week on Saturday December 21st. We need your help collecting the food donations from all IBEW 21 work locations. Making the donations was the easy part. Getting them to those in need in the communities where we live and work will require some heavy lifting.
Your Chief Stewards and Business Representatives will take the lead and organize how the donations will be picked up in their areas. If you can assist them gathering the donations from work locations near you please contact them. Their office and email contact information can be found by clicking here.
---
Did you Volunteer to Help at Mercy Home?
Its still not too late to brighten the holidays for the children served by Mercy Home. If you want to volunteer to help on December 19th please email Bob Przybylinski or Dave Webster today at bobp@ibew21.org or dwebster@ibew21.org.
If you already volunteered Bob or Dave will contact you next week. On Monday we will be receiving more information from Mercy Home to share with our volunteers.
---
Hunger Hits Home
Part of the IBEW 21 Days of Giving is to provide information about the causes and organizations we are helping. Just this week the documentary "Hunger Hits Home" began airing on cable TV networks. If you have to time watch it, you will see how hunger affects those in the communities where we live and work.
To watch a preview click here.
To watch the full documentary click here.
Since the current economic recession, many working families are experiencing food insufficiency. Many find that their salary doesn't stretch to pay household and heating bills, transportation, day care costs, and food for their table. The majority of those served by food banks are the working poor, seniors, women, and children.
Make a difference. Donate now by clicking here!
---
Food Bank of Northwest Indiana
The Food Bank of Northwest Indiana's mission is to provide nutritional support for those in need of hunger relief through a network of 110 community agencies across Lake and Porter Counties. The Food Bank of NWI was founded in 1982 and has distributed more than 100 million pounds of food. Learn more about the Food Bank of Northwest Indiana by clicking here.
The River Bend Foodbank is the largest hunger relief organization in the bi-state region, serving 22 counties in Western Illinois and Eastern Iowa. The average poverty rate for the counties they serve is 12.5%. In the past year, River Bend Foodbank distributed nearly 8 million pounds of food to 300 agencies and programs that feed the hungry. Last year, they provided over 6,153,846 meals to individuals in the communities where we live and work. Find out more about the River Bend Food Bank by clicking here.
Help both of these organizations continue their fight to end hunger by clicking here.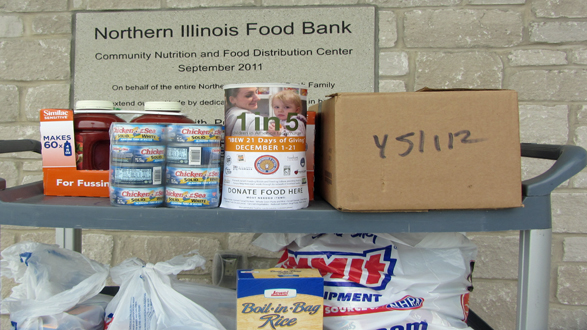 Donations from the Unit 3 meeting arrive at the Northern Illinois Food Bank!