Nov 21, 2013 - Find out how you can help- Read Frontline Now!
November 21, 2013
The December, "Back to the Basics" issue of Frontline is hot off the press. We believe one way of getting back to the basics is by giving back to the communities where we live and work.
In this issue of Frontline, read about our first ever "21 Days of Giving" food drive that will take place from December 1st – December 21st. During the "21 Days" you will also have the opportunity to volunteer at Mercy Home. You can read Frontline now by clicking here.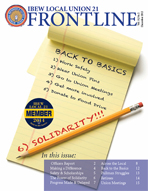 ---
These events are just the beginning of our community involvement. We are also seeking opportunities for volunteer activities in your community such as assisting in disaster relief, volunteering at soup kitchens, senior centers, and children's homes just to name a few.
If you can help with the food drive, volunteer at Mercy Home or know of an organization in your community where Local 21 members can offer their assistance contact Bob Przybylinski or Dave Webster in the Union Hall at 630-960-4466 exts. 447/449 or email them at bobp@ibew21.org or dwebster@ibew21.org.
We feel we can rebuild a sense of community among Local 21 members by assisting those in need. In the days ahead we will be emailing you and updating ibew21.org with more information on the "21 Days of Giving". You can also like us on Facebook by clicking here, and follow us on Twitter here.
Solidarity!